OUR
CONTRACT LAW

FOCUS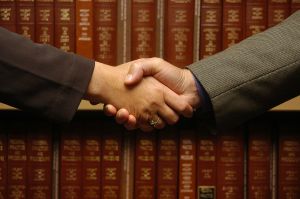 Agreement or disagreement, the Corbett Law Firm offers quality legal services to help you with:
Resolving contract problems
Litigation: lawsuits, arbitration, or mediation of contract and other business disputes
Contract drafting and negotiation
Contract administration, amendment, and changes
We offer quality legal services to both business organizations and individuals in all aspects of contract law from concept through completion and whenever contract disputes arise.
Agreement
on terms is the essence of a contract and none but the simplest transactions can be problem-free without a well drafted, written contract. The best time to address a question with the other party is before a problem arises and that's what written contracts do. If you are in need of a written contract or a change to one, we will take the time to understand your objective and business context. Then, we can help with business counsel, legal and business acumen, drafting expertise, and negotiation until agreement is reached.
Disagreements happen. If you are involved in a dispute over breach of a written or oral contract or any one of the business transactions that are contract-like (sales, checks, credit transactions, collections, payment for complete work, etc.) we can help too. We have extensive experience in successfully prosecuting and defending a wide range of legal causes both for and against business entitles and those responsible for the operation of businesses. We can also represent you in contract mediation or arbitration hearings. Your objectives are our objectives – to obtain the best possible result for you within the bounds of the law and consistent with your long-term needs.